Aquamarine The Birthstone of March
Add a pop of blue sparkle to your collection. If you were planning on giffting an Aquamarine gem, now is a perfect time! Not only is Aquamarine gorgeous like the crystal water from the Caribbean, but it is believed to bring eternal youth and happiness. In the past, sailors carried this gem to give them protection from heavy waves and have good luck. Not to mention this would be the perfect gift as it is considered to improve relationships. 
Aquamarine, meaning seawater from Latin is the birthstone of March. This charmer is a popular use for rings, earrings, necklaces, and other forms. To determine the quality of the gem is by the colour deepness while a less quality one is lighter in colour and not as transparent. Aquamarines evokes the clarity of crystalline waters and as the color of it resembles a soothing, calming and cleansing state. 
Aquamarine is often very transparent with a shiny luster so it creates a very sparkly appearance. This gem is found in granite rocks. Although Aquamarine is hard and durable, it may fade upon long exposure to light. If you are interested in the aquamarine gemstone make sure you know some characteristics since other gems have identical colours and appearance as Aquamarine, which can be easily mistaken by Topaz. Aquamarines are more expensive than Topaz due to their rarity and value. 
These pieces are available in store at Park Royal

Shop Aquamarine Online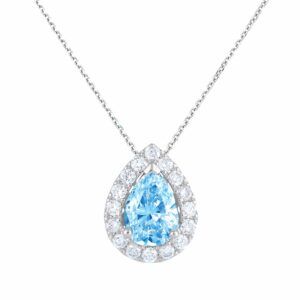 PEAR SHAPE AQUAMARINE DIAMOND HALO PENDANT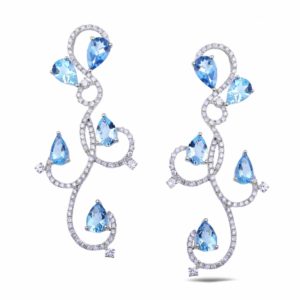 AQUAMARINE DROP EARRINGS