Performance comes from inside


INTRODUCTION

The mechanical watch is an extraordinary distillation of ingenuity that has currently reached stunning levels of performance. Operating 24/7/365 and over the years, it maintains phenomenal efficiency and reliability over time.

By way of comparison, could one imagine a car running for five years at full speed without ever stopping, while essentially continuing to perform as expected?

Despite its intrinsic qualities, the watch is impacted by a number of inherent and external factors that can prove inconvenient for its user. These involve four fields:

• Sensitivity to magnetic fields
• Autonomy
• Chronometric precision
• Durability

Engaged in a constant quest for quality and after several years of development, in close cooperation with the Manufacture Horlogère ValFleurier and the Richemont Research & Innovation teams, Baume & Mercier is able to reveal the launch of its very first mechanical self-winding Manufacture movement – the Baumatic™ BM12-1975A caliber – delivering significant improvements in each of the above-mentioned domains.


WHY NOW?

Baume & Mercier has for years been thinking about developing its own mechanical movement. It was however clear right from the start that this movement would have to feature authentic advances while remaining affordable.

The "stars aligned" to make this project possible. The manufacturing capacity of ValFleurier (created in 2005), coupled with the establishment of the Richemont Research & Innovation teams which was incorporated within Microcity in 2017, were suddenly compatible with the philosophy and expectations of Baume & Mercier. In a nutshell, the three players in this trio were now speaking the same language.

Building on its partners' expertise, Baume & Mercier has brought its competencies to bear throughout the production process: from development to industrialization. Based on its highly ambitious specifications with regard to the four sensitive fields known to watchmakers, the project was successfully brought to fruition: delivering authentic innovations and a number of optimized characteristics while ensuring effective cost management.

Nothing was left to chance in the development of this new caliber.

All parameters were carefully examined so as to find the best possible compromise. Firstly, by pinpointing certain functions for which ValFleurier had achieved enhanced reliability. Then by working on costs and quality, while incorporating the recent innovations developed by the Richemont Research & Innovation teams and meeting the goals set by Baume & Mercier.

And lastly, by rethinking production, assembly, adjustment, and processes, as well as maintenance.


SILICON HAIRSPRING AND HIGH-PERFORMANCE ESCAPEMENT

The advent of the Baumatic™ movement represents the Richemont Group's first combined introduction of a silicon balance-spring and a high-performance escapement.

Antimagnetic, three times lighter than the ordinary alloys used for hairspring, resistant to corrosion and less sensitive to small impacts and repeated vibrations, silicon enables spectacular progress in terms of horological innovation.


THE CLIFTON BAUMATIC™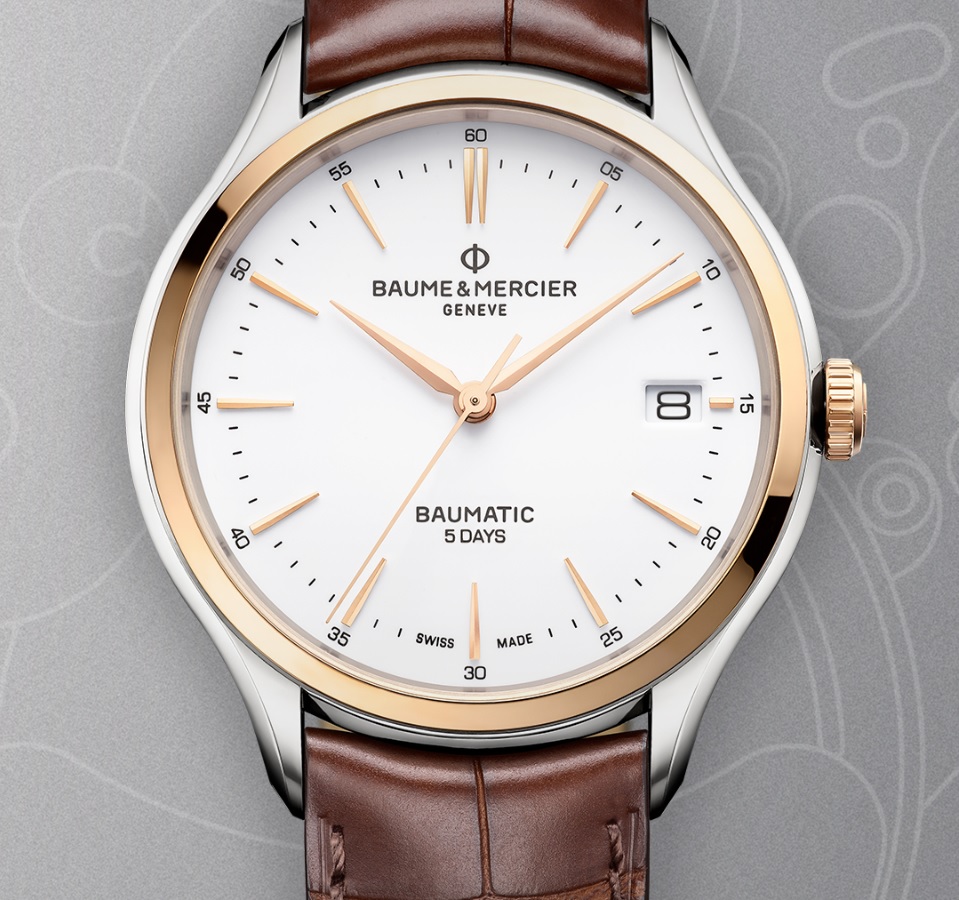 The reliable, high-performance Baumatic™ BM12-1975A caliber has been introduced in five new models in the Clifton collection. Launched six years ago, the Clifton collection exudes an elegant, urban style while upholding traditional watchmaking values. This contemporary addition delivers a new vision for the assortment featuring a 40mm case and a refined white dial with a porcelain finish, making it truly of its time as well as a watch for the future.

Most importantly, it is powered by a revolutionary in-house mechanical self-winding caliber: simple, robust and accurate, it is endowed with the best watch technology available today.

With their refined, porcelain-like finish, the five new models in the Clifton Baumatic™ collection by Baume & Mercier epitomize the brand's masculine identity. Designed for the confident and urban man, this must-have accessory comes with an immaculate white or intense black dial. The understated, easy-to-read display features slender riveted hour-markers, slim lancet hands and an oversized date aperture at 3 o'clock. Topped with a domed sapphire crystal, the minute track – in anthracite gray or white – follows the perfectly proportioned curves of the 40 mm polished/satin-finished steel case. Water-resistant to 50 meters, the transparent case back reveals the new Baumatic™ BM12-1975A caliber, the first mechanical self-winding movement developed in-house, in collaboration with the Richemont group. This timepiece, attaches to the wrist with an alligator strap that fastens with a pin buckle. The strap is easy to change without the need for a tool, and comes in dark blue, deep black or warm brown for the two-tone version. A five-row bracelet in polished/satin-finished steel, which fastens by means of a triple folding buckle with security push-pieces, is also available to complement this line of contemporary watches.

Baume & Mercier intends the qualities of its timepieces to last, and takes pride in the reliability of its products. It will therefore extend the international warranty for the Clifton Baumatic by one year after the owner registers their details at www.baume-et-mercier.com using the form provided.