Yesterday the public flight of the first electric aircraft made for aerobatics took place in Raron, Switzerland. Air Zermatt pilot Thomas Pfammatter and aerobatic paragliding champion Dominique Steffen, the project founders, together with Sylvain Dolla and Nicolas Ivanoff presented this fascinating project to Swiss and International press and aviation fans.
Spectators first witnessed a flight in a fuel-powered plane by Nicolas Ivanoff, Hamilton's brand ambassador, and then compared noise levels with the remarkably silent Hamilton aEro electric plane. Nicolas, who tested the electric aircraft earlier in the week, felt very lucky to experience this new way of flying and looks forward to the development of his sport.
Sharing common values such as being innovative and ahead of its time, it was only natural for Hamilton to be associated with this exceptional and unique project in the aviation world and become the pioneer of electric planes. In his speech to the guests Sylvain Dolla, CEO of Hamilton, focused on the human aspect. "When Thomas and Dominique told us about their project, we immediately felt how passionate and competent they were, and we are convinced that this Hamilton aEro electric plane will make aerobatics accessible to a larger and younger public".
Hamilton & the world of aviation
Hamilton's rich ongoing ties with aviation date back to 1918 when the brand was the official timekeeper for U.S. airmail flights between Washington and New York. In 1926 Admiral Richard E. Byrd used a Hamilton watch during his historical flight over the North Pole. In the 30's, Hamilton was the official watch of TWA, Eastern, United and Northwest airlines, and the accuracy of their timepieces made them popular amongst pilots up to this day. The brand also has strong military ties, achieving a US Army "E Award" for manufacturing excellence during World War II, and was "essential to successful naval and air operations" according to Admiral Arleigh Burke, Chief of Staff to Vice Admiral Marc Mitscher after the United States won the battle for Leyte Gulf.
Today the brand is still strongly involved with the flying world, and equips many squadrons around the world such as the SnowBirds in Canada, South Korea's 123rd Squadron, or the Patrulla Aspa in Spain, among others. Thanks to its long-term collaboration with Air Zermatt, a transport and rescue helicopter unit in the Swiss Alps, Hamilton joined forces to develop the limited edition Khaki Flight Timer and Khaki Takeoff pilot watches. Moreover, the brand's ambassador for over ten years, Nicolas Ivanoff, is an aerobatic pilot participating in many air competitions like the Red Bull Air Races Championship and international air shows.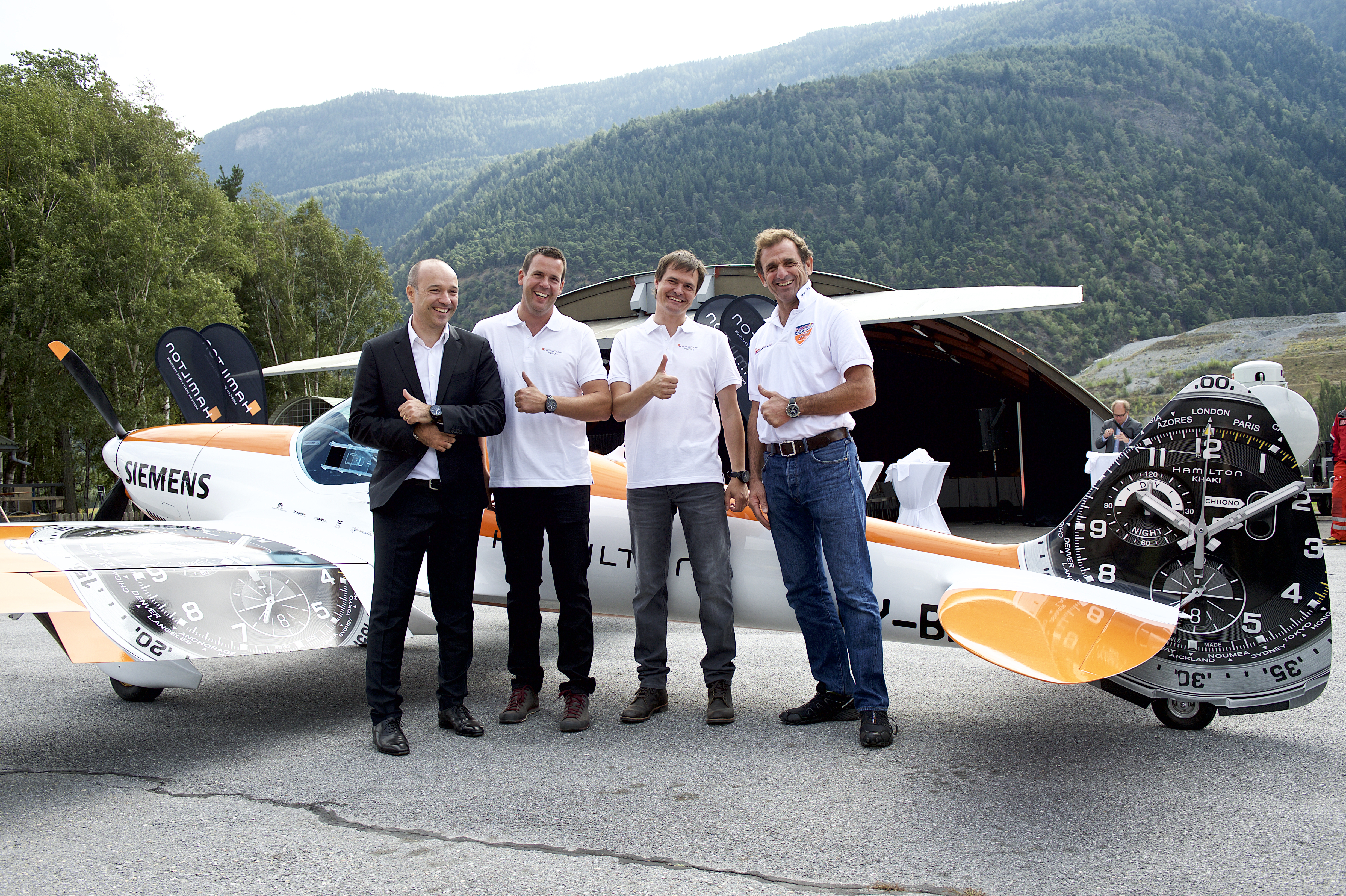 Electric plane
Selecting the best components currently available, the project partners teamed up to build the first Swiss electric plane capable of performing an aerobatic program. The Silence Aircraft Twister, combining excellent aerodynamics with low weight, is associated with Siemens' most efficient electric engine to develop a fuel-free and CO2 neutral aerobatic airplane.
In addition, the direct operating cost is about a fifth of a regular modern aerobatic plane, making it also an affordable new way to fly for the younger generation of athletes wanting to start the amazing journey of looping in the sky. Electric planes represent the future of aviation, not only from an environmentally friendly perspective but also on a sound pollution level. This break-through innovation opens the possibilities of sustainable aerobatics and passenger flights for a clean future.
Technical information about the plane
| | |
| --- | --- |
| Weight engine | 13 kg |
| Weight gearing | 10 kg |
| Weight cell | 140 kg |
| Weight batteries | 160 kg |
| Empty weight (incl. batteries, gearing & engine) | ca. 310 kg |
| Useful load (pilot, luggage) | 110 kg |
| Max takeoff weight | 420 kg |
| Max. wind loading | 47 kg/m2 |
| Max. load factor | +6g / -4g |
| Wingspan | 7,5 m |
| Wing area | 8,73 m² |
| Length | 5,5 m |
| Engine power | 80 kW |
| Never Exceed Speed | 300 km/h |
| Cruise speed | 270 km/h |
| Average consumption power | 30 kW/h |
| Range | 160 km |
Hamilton was founded in 1892 in Lancaster, Pennsylvania, USA. Hamilton watches combine the American spirit with the unrivalled precision of the latest Swiss movements and technologies. Known for its innovative design, Hamilton has a strong foothold in Hollywood, with products appearing in more than 450 films. The brand also boasts a strong aviation heritage. Hamilton is a member of the Swatch group, the largest watch manufacturer and distributor in the world.
For further information:
www.hamiltonwatch.com – www.facebook.com/hamiltonwatch – www.twitter.com/hamiltonwatch