Welcome, Ulysse Nardin's Jade "Jellyfish". The beautiful marriage of style and substance.
Thanks to its UN-310 caliber and its innovative crown design, Jade was, at its launch in 2013, the first timepiece to take into account a woman's delicate manicure when manipulating the settings. No pulling is required to wind the watch, set the time, or adjust the date backwards or forwards, only a simple turn. A dainty crown position indicator on the dial shows the wearer which setting she is adjusting. Its movement incorporates silicium components for enhanced precision and durability.


The exquisite elegance of Jade "Jellyfish" attains a new level of decorative beauty with the addition of rare enameling technique mastered by Donzé Cadrans specialist, a member of the Ulysse Nardin group of companies.


With a magical marine-inspired design, its dial is in Champlevé enamel. Champlevé is an enameling technique in which cells are carved with a chisel on the metal plate and filled with vitreous enamel. The dial is then heated up until the enamel melts and is then smoothed using a file. The final step, which is also the most delicate, consists of enriching the motif by chiseling all the metal parts on the surface.


The eternal femininity of Jade Jellyfish is celebrated on the dial and the bezel set with 114 diamonds. Water resistant to 30 meters, it boasts an 18 ct white gold case with a sapphire crystal case-back and a white leather strap.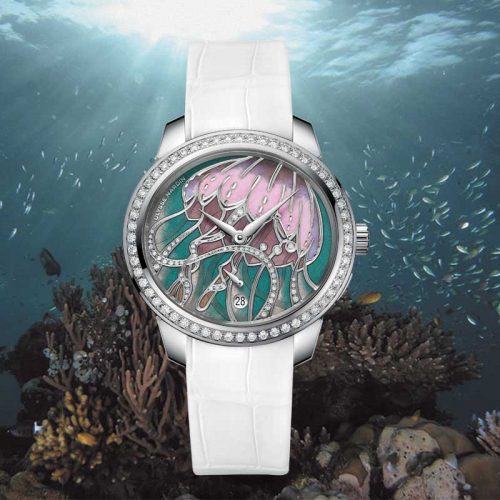 TECHNICAL DATA

Reference: 3100-125B/JELLYFISH

Movement: Caliber UN-310
Escapement in silicium
41 jewels

Power-Reserve: Approximatively 48 hours

Winding: Mechanical self- winding

Functions: Hours, minutes, small seconds
Date in a register at 6 o'clock, quick setting forwards and backwards
Simplified selection of winding, adjusting the date and time setting via a pusher at 4 o'clock

Case: 18 ct white gold, dimension: 36 mm x 39 mm

Dial: "Champlevé" enamel, motif: jellyfish

Bezel: 18 ct white gold

Diamonds: Bezel: 56 diamonds, total: 1.077 ct, dial: 58 diamonds, total: 0.099 ct

Water-resistance 30 m

Crystal: Anti-reflective sapphire crystal

Case-back: Sapphire crystal

Bracelet: Leather strap with folding buckle


Jade Collection

With an in-house movement designed and produced exclusively for women, the Jade collection has a secret: time and date can be set without pushing or pulling the crown, saving your nails.

Ulysse Nardin is now available at Lugaro Metropolis at Metrotown, Burnaby location.

Ulysse Nardin, a Swiss company, has been making high-quality, prestige timepieces since 1846.

Ulysse Nardin boasts of a rich legacy in Haute Horlogerie and perfectly combines technical mastery with exquisite artistry. Each Ulysse Nardin timepiece is a precious work of art, an extraordinary ode to beauty, expertly brought to life by the most skilled craftspeople in the world. By winning a remarkable amount of 4,300 awards and a great number of registered patents for mechanical innovations, Ulysse Nardin proofs its technical savoir-faire.

Some of the most notable accomplishments include the introduction of iconic timepieces like the 1996 Perpetual Calendar, where the calendar can be set forward and backward with ease and is the root of this timepiece family; and the 2001 Freak, which tells time by its movement, not by its hands. The Freak set the stage for Ulysse Nardin's presentation of novel mechanisms. And, it is the Marine collection that anchors Ulysse Nardin's past to the ocean while casting its seafaring skills on today's exemplary Marine Diver and Marine Chronometer.

Other cutting-edge advancements comprise Ulysse Nardin being the first watchmaker to incorporate the use of silicium technology, and the development of groundbreaking movements such as the Dual Ulysse escapement, Ulysse Anchor and the UlyChoc shock absorber. As Ulysse Nardin celebrates its 170th year, it does so as an imaginative futurist. The beholder of six exquisite families of watches, Ulysse Nardin will flow forward, stretching the limits of design, engineering and technology, and, of course, surprising watch enthusiasts around the globe.