SIMPLICITY IS THE ULTIMATE SOPHISTICATION
The sky-dweller
A distinctive technological masterpiece protected by 11 patents, the Rolex Sky-Dweller provides the information global travellers need to keep track of time at a glance. Launched in 2012, the Sky-Dweller is a compelling timepiece of revolutionary design that blends to perfection mechanical sophistication and ease of use.
style of the rolex sky-dweller
THE SOPHISTICATED WATCH FOR WORLD TRAVELLERS
The Sky-Dweller's off-centre disc for the second time zone gives the watch excellent legibility and distinct aesthetics. During travel the reference time is indicated by a fixed red triangle, symbolizing the wearer's usual place of residence or work. The 24-hour display allows for unmistakeable distinction between daytime hours and nighttime hours in the distant time zone.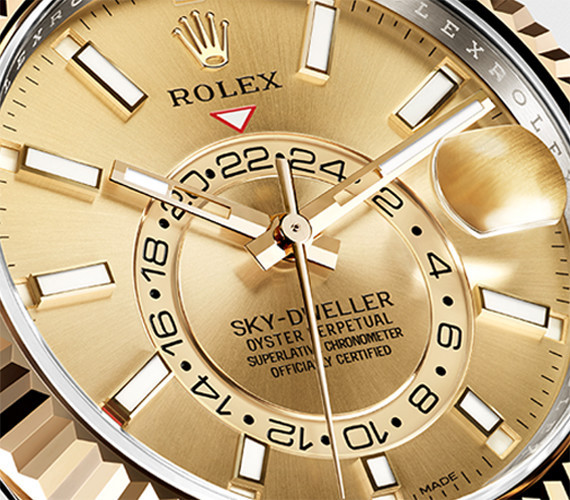 features of the rolex sky-dweller
travel time zone
The Sky-Dweller displays two time zones simultaneously. Local time is indicated by the conventional centre hour, minute and seconds hands. It can be set quickly and easily by means of a mechanism that allows the hour hand to be adjusted independently in one-hour increments both forwards and backwards. Neither the minute and seconds nor the reference time in the second time zone are affected. And, since the watch is not stopped, accuracy is preserved. Reference time in the traveller's usual place of residence or work is read on a rotating off-centre disc.
features of the rolex sky-dweller
Annual calendar
The ingenious Saros annual calendar of the Sky-Dweller simplifies life for the wearer of the watch, who no longer needs to think about adjusting the date at the end of a 30-day month. The annual calendar displays the correct date through the year. Only one adjustment is needed – on 1 March (February having only 28 or 29 days). The current month is indicated in deep red within one of 12 windows around the dial.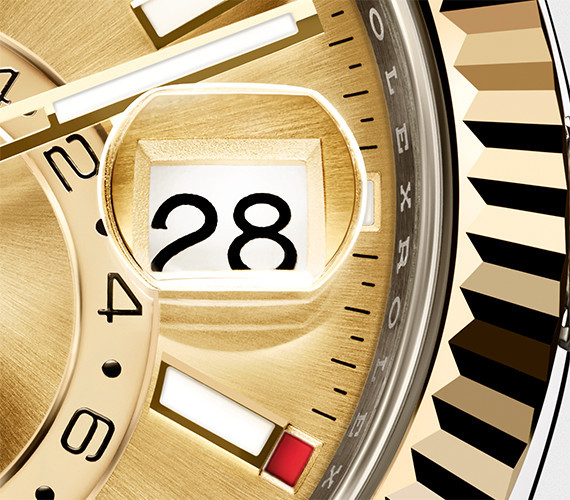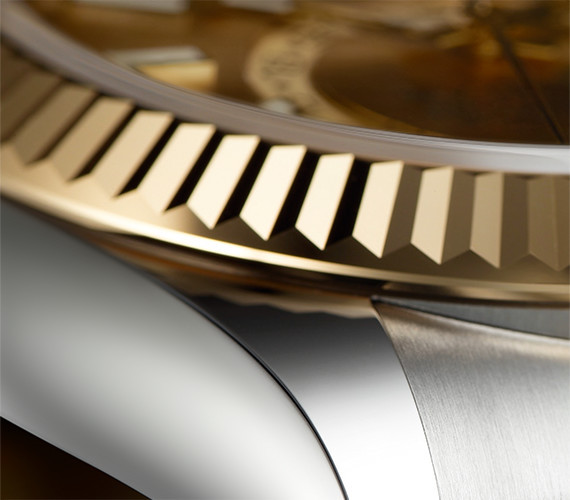 features of the rolex sky-dweller
RING COMMAND BEZEL
The rotatable Ring Command bezel interacts with the movement to allow the global traveller to easily set the watch's functions. The bezel can be turned to one of three positions to select the date, local time or reference time. The selected function can then be rapidly adjusted in either direction using the winding crown. This intuitive interface is based on a complex mechanical module with no fewer than 50 components, the product of state-of-the-art watchmaking and advanced micromechanics. Such innovation epitomizes Rolex's in-house mastery of the design and manufacture of all the essential components of the watch.