The history of golf has been marked by the inspirational performances and sporting feats of some of the world's greatest players.
For 50 years, Rolex has partnered the finest players of their time at all levels and in all arenas, from Arnold Palmer and The Big Three to the New Guard who are sweeping through the game at the moment.
THE BIG TREE
Arnold Palmer quickly established himself as the first great of the modern game, a man who went on to secure seven Major wins and, in the process, introduce golf to generations of new enthusiasts.

In 1967 Palmer, soon joined by Jack Nicklaus and Gary Player, became a Rolex Testimonee. The Big Three were legends of the game which changed the face of golf forever. Across nearly two decades, this dynamic trio challenged each other with equal skill and endeavored at almost every hole, at almost every tournament. Gary Player secured nine Major wins while Jack Nicklaus's accumulation of 18 Major titles remains unsurpassed at the very summit of the game.

In the mid-1960s, before tour golf received TV coverage, the triumvirate filmed a series of eight golf matches. These were subsequently broadcast on a Saturday night show called Big Three Golf. The series was a hit and returned for a second and third year, wrapping up with a match played in Japan. Thus the origins of their Big Three nickname, which has stayed with these legendary Testimonees ever since.

To term the three of them rivals are to misstate their relationship. While always fierce on the fairways, the trio's competition was one characterized by mutual admiration, support and respect. Between the three of them they formed an unspoken, natural partnership to promote the values of golf to a wider and growing public. For them, victory achieved through fair and proper means was fundamental. These men were the very embodiment of fair play. As Nicklaus demonstrated at the 1969 Ryder Cup when he refused to make his opponent sink the putt that tied the competition. What a moment of sportsmanship that was, the moment that marked the invention of the concession, a trait that remains to this day one of the most admired in the sport.

"What comes to mind with Arnold and Jack is that we wanted to win so badly," recalls Gary Player. "But at the same time, when one of us won, the other two would put out their hand and say 'well done, you beat me today, but I'll get you tomorrow."

The gentlemanly intent at the heart of their rivalry was given magnificent expression in the 2003 Presidents Cup™ in Fancourt, South Africa. After the match between the USA and the International teams finished in a tie, a playoff ensued in the rapidly fading light. And still, after three holes were played, the two sides were level. Rather than extend the contest into an extra day, the two team captains agreed, in an unprecedented move, that the trophy would be shared that year. Their names? Nicklaus and Player.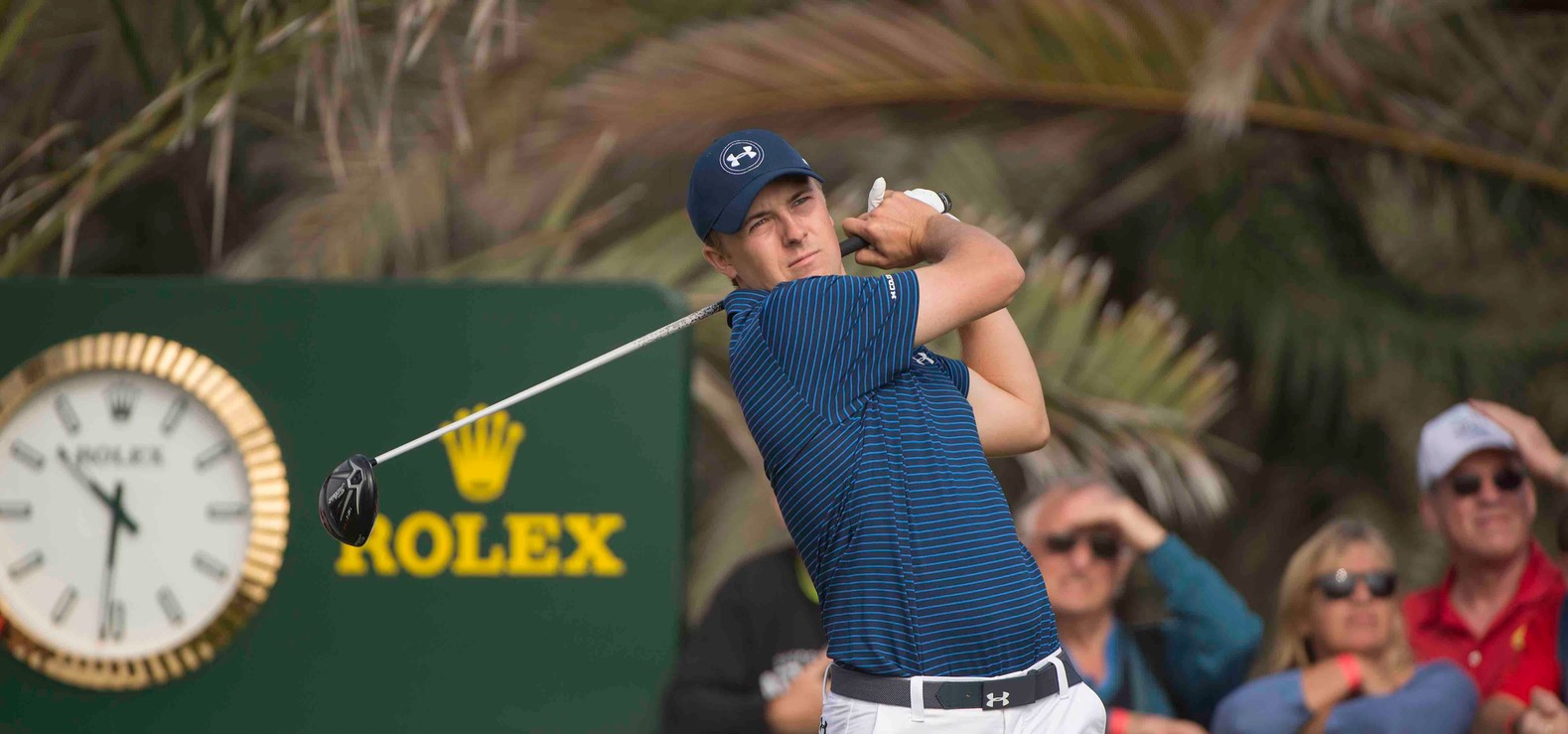 MAJOR WINNERS

There is little coincidence in what makes a Rolex Testimonee. These are players who share the Swiss watchmaker's ambitions for their sport. And they are part of an unbreakable bond that stretches back five decades. Ever since Arnold Palmer became the first Rolex Testimonee, the very best in the game have been enhanced by their association with the company.

The truest test of any golfer's achievements is their Major count. Numerous Rolex Testimonees are among those who have won more Majors than most. Only one man has come close to Nicklaus's tally of 18. Eldrick "Tiger" Woods. A prodigious amateur golfer, the American announced his arrival in the professional ranks in 1996 in an iconic news conference, where his first words, "I guess… hello world?", couldn't have been more appropriate as this pre-eminent talent embarked on a career that would change the world of golf. He marked the advent of a new era in modern golf and expanded the game's resonance.

At the first Major of his professional career, the Masters in 1997, Woods became the tournament's youngest ever winner, setting the 72-hole scoring record and becoming the first Major winner of African or Asian descent. Just as The Big Three had done so before him, Woods inspired millions of amateurs and a new generation of golfers with this victory. So began a prolific career including 14 Major titles, 18 World Golf Championships, and 79 PGA TOUR® victories. As one of only five golfers ever to have won all four of the professional Majors, known as the Career Grand Slam, Woods is the only golfer to have held them all at the same time – a feat now known as the "Tiger Slam" – after he won the 2000 U.S. Open, The Open and PGA Championship, followed in 2001 by the Masters.

What is most remarkable is that while this once-in-a-lifetime talent was dominating the men's game, another was doing so in women's golf. There is no question Annika Sörenstam is the greatest female golfer in history. The Swede claimed 10 Major titles over 12 years, won 72 LPGA tournaments in total and, after becoming only the second woman to be named Rolex Player of the Year the year after being named Rolex Rookie of the Year, Sörenstam went on to earn a record eight Rolex Player of the Year Awards. The only female player to card a 59 in competition, Sörenstam also holds the record for the lowest scoring average for a season: 68.6969 in 2004. Such was her dominance of the sport that in 2003 she was invited to tee up in a PGA TOUR® event.

Another prominent golfer who has joined the Rolex family of Testimonies, since 2011, is American Tom Watson. An enduring figure in world golf, Watson, an eight-time Major winner, including The Open on five occasions, has achieved numerous records over the course of his long career. American Phil Mickelson is another player who has accomplished admirable longevity. Commonly known as "Lefty," the most successful-ever golfer to play left-handed turned professional in 1992 and has 51 wins to his name, including five Majors. Through a combination of creativity, skill, and precision from close to the green, Mickelson is regarded as owning the best short game of any golfer.

Additional Rolex Testimonees with Major wins to their name include: two-time Masters champions Bernhard Langer (Germany) and José María Olazábal (Spain); American Fred Couples, who won the Masters in 1992; two-time U.S. Open winners Retief Goosen (South Africa) and Curtis Strange (US); triple Major winner Nick Price (Zimbabwe); two-time Major winner Martin Kaymer (Germany); the first-ever Australian Masters champion, Adam Scott; PGA Championship winner Davis Love III (US); Jordan Spieth, a Texan with two Major championships won consecutively in 2015; Australian Jason Day, who also won his first Major in 2015; Lorena Ochoa (Mexico); Yani Tseng (Taiwan), the youngest player ever, male or female, to win five Major championships; Lexi Thompson from Florida, winner of the 2015 ANA Inspiration, and New Zealand's Lydia Ko, the youngest golfer to be two-time Major winner and World No. 1.


TEAM LEADERS

Rolex is a leader in its field, an innovator, and pioneer in the Swiss watchmaking industry, and these attributes can also be recognized in the Rolex family of golf Testimonees. This is especially true of those golfers who have led their sport throughout their playing careers and have extended their legacy as captains at the game's most compelling team events: The Ryder Cup, Presidents Cup™, and Solheim Cup.

Such was his enduring aptitude for leadership, over four decades, Rolex's first golf Testimonee, Arnold Palmer, earned three victories from his three captaincies – in the 1963 and 1975 Ryder Cup, plus the 1996 Presidents Cup™. Subsequently, Rolex Testimonees Jack Nicklaus, Tom Watson, Bernhard Langer, Fred Couples, Colin Montgomerie (Scotland), José María Olazábal, Paul McGinley (Ireland) and Davis Love III have each etched their names in the history books in leading triumphant Ryder Cup or Presidents Cup™ teams.

At the Solheim Cup, American captain Juli Inkster guided the U.S. Team to victory in 2015. As these team trophies have grown in stature and popularity with golfers across the globe, so too has the responsibility for leading the sides to glory. In all, 12 Rolex Testimonees have led a team of pre-eminent golfers to victory, while upholding the best sporting traditions. Three more have their names inked in to lead the 2017 Presidents Cup™ (Steve Stricker – U.S. Team; Nick Price, Zimbabwe – International Team); 2018 Ryder Cup (Thomas Bjørn, Denmark – Team Europe) and 2017 Solheim Cup (Annika Sörenstam – Team Europe).


ROLEX NEW GUARD

There is a burgeoning group of young, aspirational golfers who confidently go about their business with integrity, maturity and respect as well as displaying skill, precision, and ambition. They are the "Rolex New Guard" a new generation of golfers who, like The Big Three before them, are asserting their authority on the sport and in doing so inspire future generations of athletes to follow them.


RESPECTFUL
FIERCE
MODERN

Born in the 1980s and 1990s these prodigious golfers include: Jordan Spieth, Jason Day, Lydia Ko, Lexi Thompson; Brooke Henderson, the Canadian winner of the 2016 KPMG Women's PGA Championship (aged 18); American Justin Thomas, who claimed back-to-back PGA TOUR® wins in January 2017; 2015 PLAYERS® Championship winner Rickie Fowler (US); Hideki Matsuyama, a Japanese golfer with an impressive Majors record to accompany four PGA TOUR® wins; American Daniel Berger, who joined the winners' circle in 2016; Thomas Pieters, the long-hitting Belgian with three European Tour victories under his belt; Spaniard Jon Rahm, a former number one in the World Amateur Golf Ranking; and 2015 U.S. Amateur Champion, Bryson DeChambeau(US). Also among the Rolex New Guard are Carlota Ciganda, a Spaniard with six professional wins to her name; England's Matthew Fitzpatrick, who won the European Tour season finale, the DP World Tour Championship, Dubai in 2016 and Brooks Koepka (US), winner of the U.S. Open in 2017, who learned his trade on the European Challenge Tour and European Tour.


DETERMINED
PRECISE
DECENT

This is a game in which standards, ethics, and principles are handed down through the generations. What's more, this generation of golfers is proud to be associated with The Big Three and to emulate their relationships with Rolex. Such is their respect for the heritage of the game, and they know what it means to be named alongside giants of golf. From The Big Three to the New Guard, the continuity is smooth and seamless.

"Golf goes through cycles and generations," said Annika Sörenstam, former Rolex Rankings World No. 1. "Jordan [Spieth], Rickie [Fowler] and Jason [Day] are fun personalities and powerful players as well as quality individuals. There is certainly a new generation emerging, and I feel golf is in good hands."