Switzerland – Patrouille des Glaciers: They did it!
Chinese National Team's First PDG Experience to Initiate Extreme Journey Be Proud and #DontCrackUnderPressure.
Verbier, Switzerland – 20 April, 2016 – As Official Timekeeper and Official Watch of the famous Patrouille des Glaciers (PDG), TAG Heuer took the pioneering spirit of #DontCrackUnderPressure to the top of snow maintains in Switzerland.
Chinese National Team, sponsored by TAG Heuer, took part in the top level race for the first time and all team members left for Verbier to get prepared for the PDG race. Adhering to the spirit of #DontCrackUnderPressure, under the leadership of Florent Troillet, PDG winner, Chinese National Team challenged their counterparts with the performance of 5 hours 57 minutes 44 seconds for 26 kilometers.
Thanks to TAG Heuer, the first Chinese National team – formed by 3 members – to attend the race with nearly 3500 people, faced strong competitors from Europe, the physical ability and teamwork spirit is put to the extreme test, everyone tried to make a breakthrough in every minute.
Chinese National Team's good performance has a close relationship with the ten-day training program organized by TAG Heuer & Verbier ski resort before the event, guaranteed the team to finish the race. With the lead of Florent Troillet, they managed to cope with all difficulties and perfected themselves, fully demonstrated the Chinese people's spirit.
Launched in 1943, PDG is the most famous international military ski mountaineering race, organised by the Swiss army and also open to civilian patrols, which takes place from 19th to 22nd April 2016, between Zermatt and Verbier in Valais, and which brings together more than 5000 racers.
Jean-Claude Biver said: "The Patrouille des Glaciers is one of Switzerland's most legendary races. I am incredibly proud that the Swiss Army has chosen TAG Heuer as its partner. We are involved in the race, not only as its sponsor but also by organising the attendance of a patrol of 4 Chinese racers who took part with proud in the race and discovered ski mountaineering in our Alps, helping to raise the event's international profile."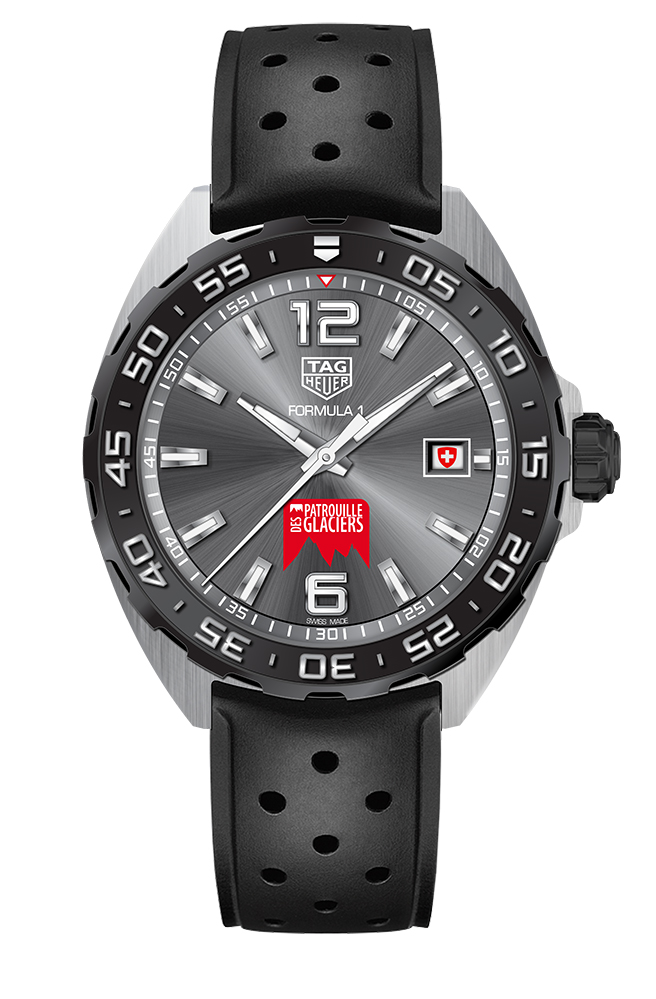 As Official Timekeeper AND Official watch of the PDG, TAG Heuer presented the TAG Heuer Formula 1 Patrouille de Glaciers Special Edition watch, just 200 of which are available from the TAG Heuer and Bucherer boutique in Zermatt, the Boutique Jacot in Verbier, and from the online PDG shop.